Spotlight on Achievement — May 18, 2023
Hello, if you are on my news page, Welcome to the website.
The studio is finally operating at pre-Covid. My students have busy preparing for CJMEA and NJMEA region and All State Auditions, Marching spots they want for the upcoming Marching 2023/24 season. This year 2 of my students represented the state of New Jersey All EasternMusic Program. 
I am very Proud to mention Brandon Cheng for making the All Eastern Orchestra and Andy Xu for the All Eastern Band. I also have 8 students between middle school and High school that will post with their photo and acheivements.

As of the 2022/23 year ROJO Sound will no longer be recording. Covid kind ofdamper on that permentlly. 

ROJO Sound Studio is still offering Drum and Percussion lessons.
Band rehearsal.
Cymbal Cleaning
Thank you so much for your interest in ROJO Sound Studio
Spotlight on Achievement — May 16, 2021
I am very happy to announce that Robbie Mac's Drum Studio has donated 5 brand new Pearl Marching Bass Drums to The John P Stevens High School Marching Band. 99% of the drummers in the Drum Line I have been teaching since the 5th grade. Most of my students are Region/All State Award winners. Incredibly, 3 of my students got into the All Eastern Orchestra. I am very proud of all of them. Enjoy your new toys.

Rob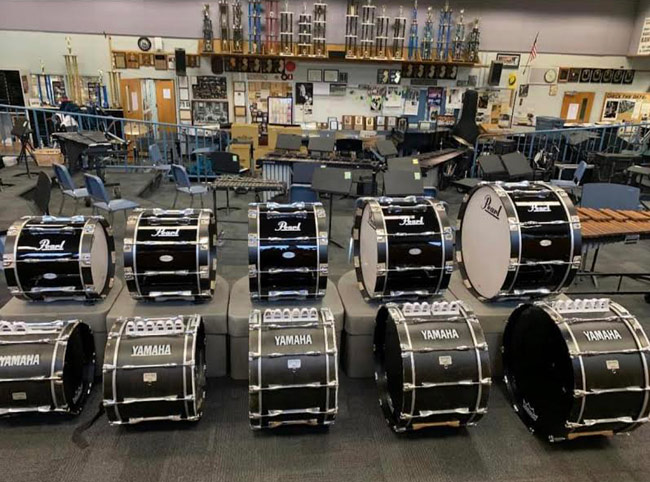 Spotlight on Achievement — January 31, 2021
First off I need to congratulate my students that made all state band in the 2019/2020 season. Out of nine percussionists that were able to participate in NJMEA All State Band, 6 of my students were in attendance. The Middle school program  CMEA Region Band, 7 of my students were in attendance. 

The 2020/2021 music season was a wash. On January 25th 2021, I received a call from one of the parents letting me know that 3 of my students were accepted into the All Eastern Band / Orchestra Program. Having one student getting in is an achievement, getting 3 is unheard of. I am humbled as a drum and percussion teacher.
I'd like to congratulate:
• Mayank Paliwal       • Aayush Gupta        • Shreyes Varde

For accomplishing such a prestigious award.
To all students of John P Stevens High School in Edison NJ, hoping 2021 will be a much better year.
Rob
Spotlight on Achievement — September 3, 2020
John McNamara with the U.S. Pacific Fleet Band Performs Ciri Koto for Fijians
Spotlight on Achievement — April 7, 2019
Hello everyone. It has been a while but a lot has happened in 2019. This years students from Robbie Mac's Drum Studio has been the most successful in recent years. The NJ Division 2 High School Region Band took only 11 Percussionists for the Wind Ensemble Symphonic Band. 5 of the 11 students came from Robbie Mac's Drum Studio, and out of those 5, 3 of my students got into the NJ All State Band. The Middle School was no exception, 4 students from the studio made Middle School Region band, one of them Placing Number 1 Overall. You can read about my student accomplishments on the Student page.
Robert McNamara Jr. now teaching piano at Rojo Studios.

I would like to Announce that ROJO Sound Studio will be offering Piano Lessons by my son Rob McNamara Jr. Rob is a music teacher at Abington Avenue School in Newark, NJ.

Rob McNamara attended Montclair State University and studied Music Education with a concentration in Jazz Studies. Throughout his five years in college, Rob has played drums for the Montclair State Jazz Ensemble, West Side Story, the West African Drumming and Dance Ensemble, jazz combos and off Broadway shows in New York City. At the age of 16, Rob taught percussion privately with his father. This is where Rob developed his love and passion for music education. During his time as a student teacher, Rob was able to receive hands on experience on education working at Arts High School and Abington Avenue School in Newark, NJ. Upon receiving his Bachelor's in Music Education from Montclair State University in May of 2018, he also received the Award for Outstanding Student Teacher and Music Performer. Shortly after graduation, Rob was hired as the new Instrumental Band Teacher at Abington Avenue School in Newark, NJ. There he teaches PreK-8th grade students musical instruments and holds concerts throughout the academic year conducting the band and orchestra.

In addition, we offer Bass and Guitar lessons by Gary Van Scyoc who played with John Lennon and the Elephant's Memory band.

Spotlight on Achievement — January 1, 2018
This years High School Auditions were December 9, 2017. The following Students that worked so hard to get in this year are:
Shruti Tandon - Junior at J.P. Stevens High School Placed 4th overall, She will be performing 4th chair Wind Ensemble and 1st chair Orchestra.
Mayank Paliwan - Freshmen at J.P. Stevens High School Placed 7th overall. Mayank will be performing 3rd chair Symphonic band and 1st chair Percussion Ensemble.
Risi Shah - Sophomore at J.P. Stevens High School placed 11th overall. Rishi will be performing 6th chair Symphonic band and 5th chair Percussion Ensemble.
Michael Carlton - Junior at Westfield Hight School, will be the Tympanist for the Symphonic Band.
Congratulations to all of you and to your parents.
I would like to congratulate Varun Das for his accomplishments over the last 5 years. When I first met Varun he was a typical 12 year old listening to Joey Jordison from Slipknot. As soon as we started working together, I saw this passion that I haven't seen in many of my students at that time. The first audition and countless more were middle school Region auditions and The NJPAC Jazz for teens program, which Varun made both, placing #2 overall in the Region audition and getting a spot in the Jazz for Teens program. since that time Varun has auditioned every year with the school Region auditions making The Region Bands, All State Orchestra. For 2016, Varun Placed in the top 5 in All State Orchestra and Varun was first overall for all eastern and played in the all eastern band.  In the meantime, Varun has been attending the last 3 years in the Manhattan School of Music Pre-College Jazz program. He has also played percussion for Carnegie Hall Honors Performance Series Symphony Orchestra. Over the Summer, Varun played for the NJ Youth Symphony playing in Theaters In Vienna and Hungary. The last part of 2017 Varun auditioned for the Grammy band. The competition was very tough and hundreds of kids from all over the United States auditioned. Varun won the Drum set seat for this years Grammy Band. 

Varun, It has been a tremendous journey working with you and watching you grow into an incredible drummer, at the same time getting to know your family and see the support they gave you.
More Students at the Top! — April 30, 2016
Hello Everyone,
It has been a very busy and rewarding year for Robbie Mac's Drum Studio and ROJO Sound. The recording studio was successful in 2015, but the drum and rehearsal studio have been the most exciting to date since we opened ROJO Sound Studio in July 2006. This starts 10 years of making great drummers and great music.
This year Robbie Mac's Drum had eight students between Middle School and High School audition for the Region band in Division 1 and 2. For the first time ever, we have had region auditions in division 1. Six students out of the eight were accepted. Two of our students were invited to audition for All State band. This year Varun Das, 15 years old, a Sophomore at J. P. Stevens High School ranked number 1 overall in All State Orchestra. Joseph Gonzales – 12 years old in the Seventh Grade at Washington Middle School, auditioned and was ranked 7th overall in the Orchestra Band. Brendan Lathrop, a Senior at David Brearley High School made 3rd Chair Orchestra.  Brendan was invited to Audition for the All States Band. Congratulations to all my students who auditioned and were accepted and worked so hard to get this award.
Best regards and keep on drumming,
Robbie 
The Renegades — April 16, 2015

On April 16th, 2015 Supergroup The Renegades rehearsed at Rojo Sound in preparation for their gig at NYC's Cutting Room. The group was comprised of Steve Holly from Paul McCartney's Wings, Gary Van Scyoc, John Lennon's bass player and teacher here at the Studio, Dennis Ferante, John Lennon's Engineer and Jimmy Mac from the Denny Lane band. Shannon McDonald World famous Beatle Artist also stopped by. In addition, Dennis Ferante made his last recording on May 24th 2015 at ROJO. The following Saturday we lost a recording legend.
Whiplash Anyone? — March 27, 2015

In 1976 the movie industry created a film called Rocky. Film goers and boxers alike were amazed as this underdog defeated the opponent and the odds. It made Sylvester Stallone a household name and the Rocky theme was stuck in everyone's head for weeks. 
Finally, Hollywood has created a movie that dramatizes the struggles of an up and coming drummer, his goal of success and his will to achieve it. Like many have you, I have seen this movie Whiplash, and although I thought it was fantastic and highly entertaining, I found that I was asking myself some serious questions. For one, who is Mr. Fletcher and are his intentions and teaching methods real and is this the the way to turn a beginner into pro? As Dennis Miller once said "I don't want to go off on a rant" but… As a drum teacher, I feel that there is a solid line between developing and intimidating a student. This method might work on a theater screen while one is enjoying a box of over priced popcorn and reclining in a newly refurbished theater seat, but let's face it folks, I didn't feel that this is the way to treat a student or a person for that matter. It is not respectful and not the way to achieve a roster of students who have achieved statewide recognition the way the students of RMDS have excelled. I am proud to be able to feature my students on the showcase page. I'm proud to see them win competitions but mostly I'm proud the see their growth potential realized from the day they walk in the door until now. Robbie Mac's Drum Studio is a school where students are coached to becoming pros through study and practice. Best of all, the only hitting is the stick to the snare… and that's what it's all about.